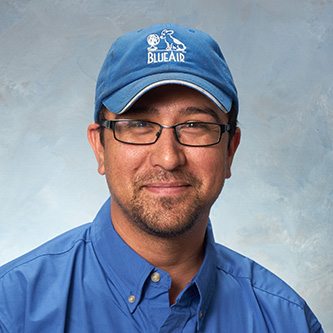 Joe
"The crew was very professional and efficient. The job required installing of new ducts, and reconstructing of heater closet. We expected it to be two-day job, but guys worked hard to finish within one work day. Five stars service."
– Danuta W.
"I have been a customer for over 13 years. We were in Las Vegas where our unit went out. Blue air installed a new unit and we did everything by phone. Now 13 years later our unit went out on a Friday in August. Blue air had Kerry come out by 3 pm. We needed a new unit . Malinda was at our house around 5pm. She showed us the new units. We selected one and it was installed by 5 pm on Monday. I am and will continue to be a loyal costumer . Blue air is very professional and make you feel like you are their best costumer . Keep up the great work."
– Henry G.
"Kerry and Joe came on time and were able to solve a complex issue with my heating unit. They are very knowledgeable and explained in detail what the problem was. They are both very patient, polite and I highly recommend them as well as the company."
– Diane W.
"When our compressor needed repair, Joe came to our rescue. He was extremely knowledgeable and patiently explained the situation and the options and made sure things were right. A plus."
– Margo J.
Thank you for the fast, efficient, and friendly service!! I will be recommending you all to anyone who asks me. Long story short my A/C started blowing warm air on Sunday night. After calling a few companies (who couldn't fit me in until Tuesday afternoon)….BlueAir was at my home within 30 minutes of my call. The tech was very professional and informative. He looked over my outside unit and about 20 minutes later walked in with the part that was bad. He had an immediate estimate for me and explained we would start with that part and see if it fixed the problem. Thank goodness it did!! He had some other recommendations for me…and even walked me outside to show me on the unit (my dryer vent blows very close and he mentioned lint in the area). Within an hour my A/C was blowing cold…."
– Dominique L.
"First all, the best company around. They came out and found the problem then replaced the coil. AC has never been this cold. Thank you ."
– gerald crawford w.